Hage Matic Gantry
processing centres
PROCESSING OF LARGE STEEL AND ALUMINIUM SECTIONS
HAGE Matic CNC gantry processing centres are made for high-precision processing of large steel and aluminium sections. The workpieces can have a total length of up to 100 m.
The gantry processing centres can combine multiple processing technologies, for example milling and FSW. There are effectively no limits as to the control system, since the controls are compatible with all of the common CNC systems. Depending on the needs of individual customers, HAGE also supplies
Safety and noise control concepts
Efficient swarf management
Clamping systems
NC programmes optimized for specific workpieces
Specifications for the machine foundation
HAGE Matic machines are as diverse as the workpieces they process. Beginning from our two basic machine concepts, HAGE Matic Classic and HAGE Matic Flexible, we develop customized machines in close consultation with our customers.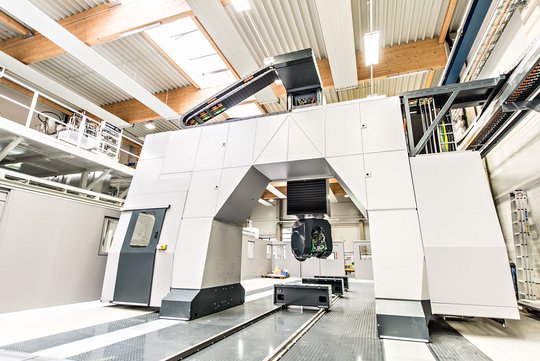 5-Axis gantry processing centre
(including FSW process and process monitoring)
used for development, demonstration and contract manufacturing
Range of travel: 20 m x 3 m x 1,6 m
GANTRY PROCESSING CENTRE
AS A COMPLETE SOLUTION
In line with our 'full service' concept, we support customers from the initial consultation until commissioning of the machine – and beyond, with maintenance and service.
HAGE Matic machines are in use around the world and are valued for their precision and ease of use. Our reference customers include major manufacturers of rail vehicles.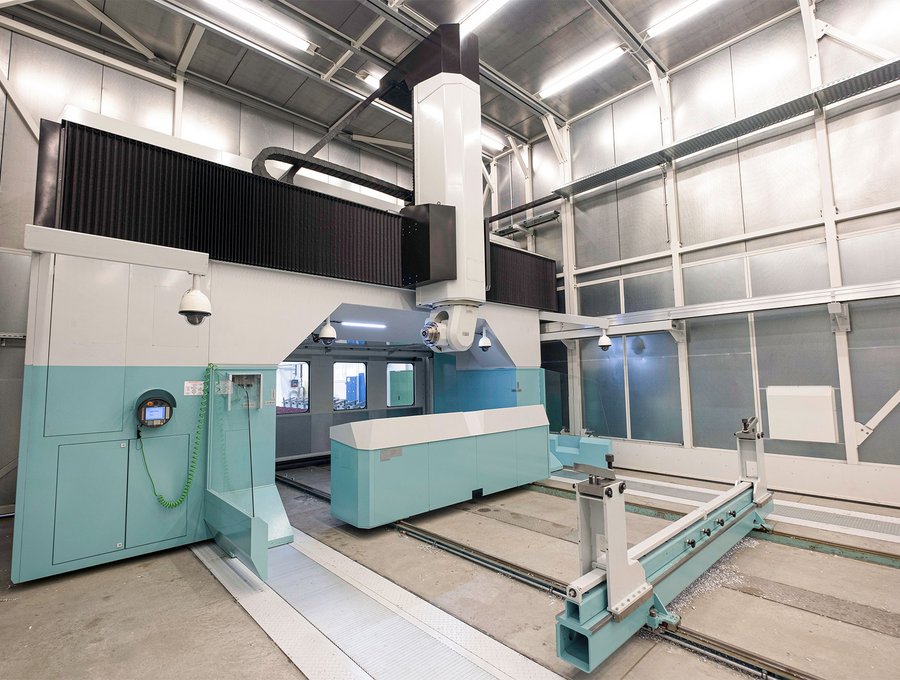 HAGE matic
classic
Milling, drilling, saw cutting, thread cutting: HAGE Matic Classic is a 5-axis gantry milling machine for aluminium and steel sections.
MACHINEN HIGHLIGHTS:
Individual milling head and spindle specifications
Double rails in the x-axis
Gantry milling machine with tool changer
5-sided processing
Hybrid construction enables the combination of multiple processing technologies
All common CNC systems can be used
The double rails in the X-axis enable the machine to work on parts up to 100 m long and 6 m wide. The milling head and spindle specifications are worked out individually. The gantry structure, which is optimized by finite-element analysis, is adapted to suit the width of the workpieces.
HAGE matic
Flexible
The highest level of customization is available in the form of our HAGE Matic Flexible line. These fully automatic processing centres are used, for example, in the production of metal sections for window and conservatory frames and roller shutters.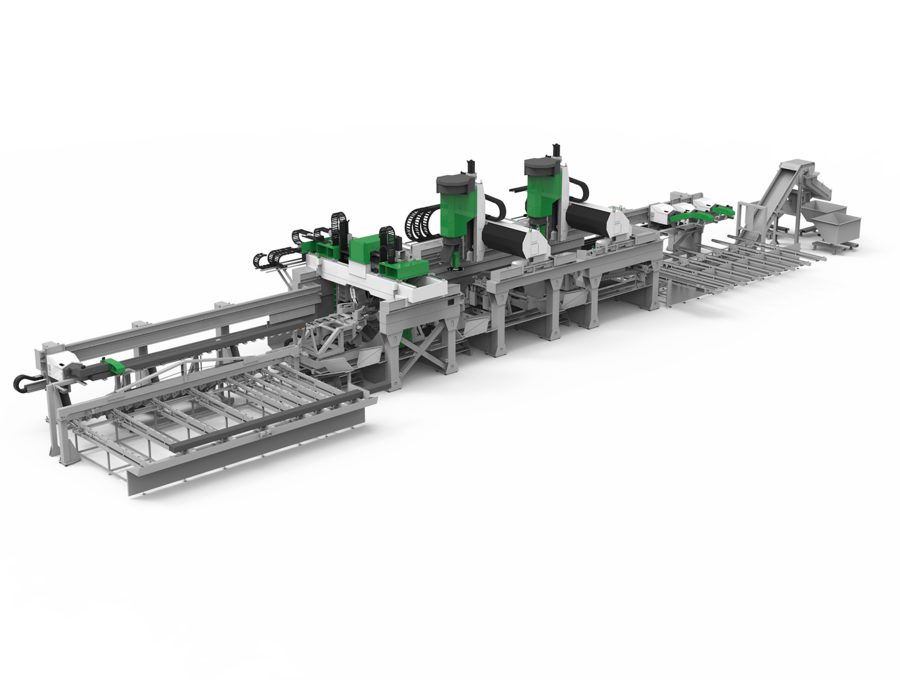 AVAILABLE LINE COMPONENTS:
Flat magazine
Feed roller conveyor
Profile check
5 NC feed grippers
Processing centre with 8 spindles
2 pieces 5-axis processing centres
Clamping fixture for profiles
Output roller conveyor
Outfeed buffer
Chip disposal
An innovative example of a HAGE Matic Flexible is the automatic processing centre for window frames.
The workpieces are loaded into the processing centre by hand. At the end of the conveyor the profiles are put into the right position. A total of five feed gripper safes the further transport of the workpieces through the line.
The first of two processing centres provides eight processing heads which are build up on a positioning unite. The spindle is able to reach every positions across the profile, so a tool change is not necessary. The second processing centre realizes the front side processing with a tilting head. The workpieces are cut and a cutting gripper transport the finished parts to the outfeed buffer. Straight cuts, mitre cuts or different angles up to +/- 45° are possible.