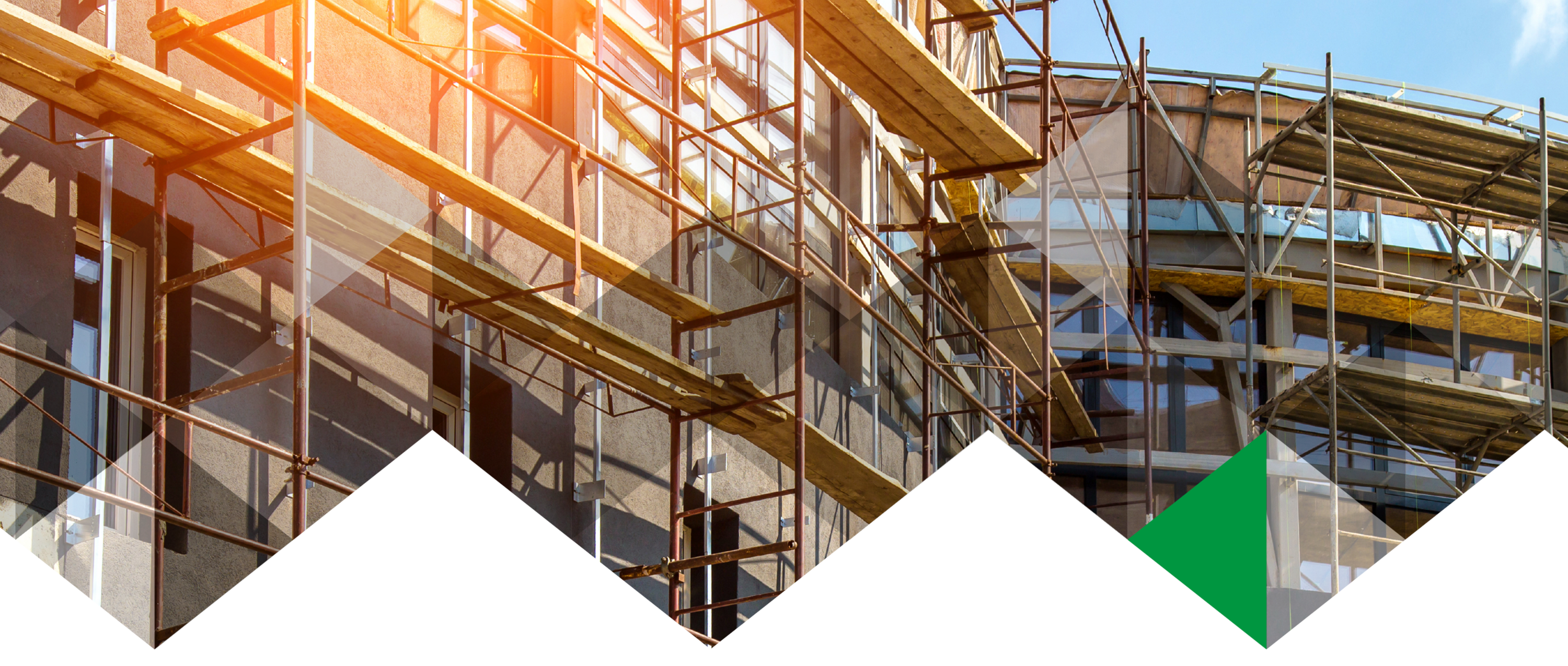 The building boom of recent decades, together with massive advances in technology and materials have led to increased demands on the machines used to manufacture construction elements and assemblies. As well as robust construction, efficiency and reliability are more important than ever.
HAGE has supplied high-tech solutions for leading manufacturers in the building industry ever since the company was founded. These include individual machines for fabricating formwork elements or floor props, as well as machines for 6-sided processing of wood. HAGE finds the best complete solution for every customer.
FSW machine
for floor elements
In this application, the HAGE FSW Light Use processing centre is used for longitudinal welding of aluminium extrusion profiles.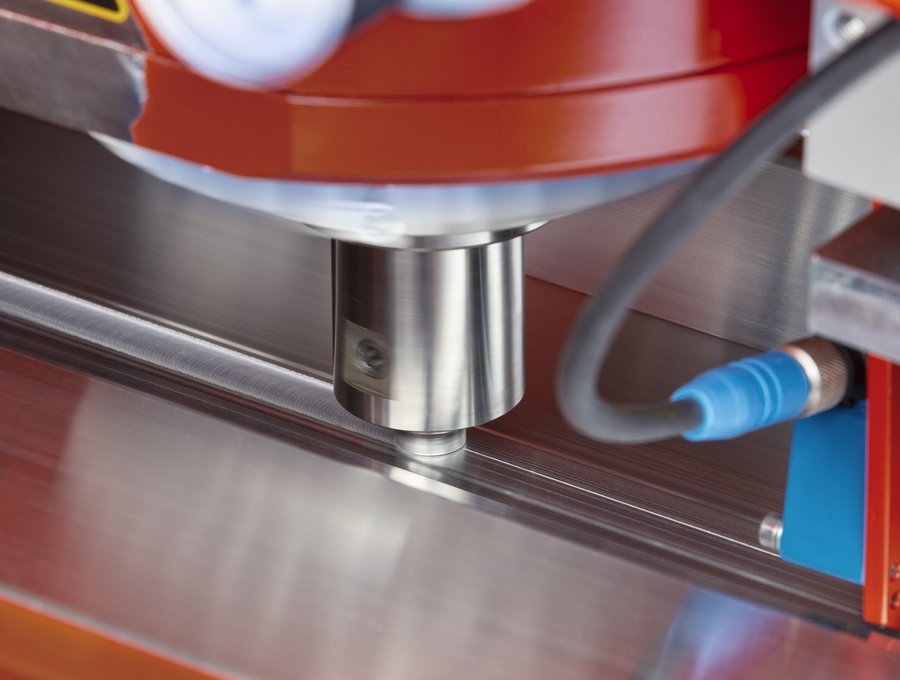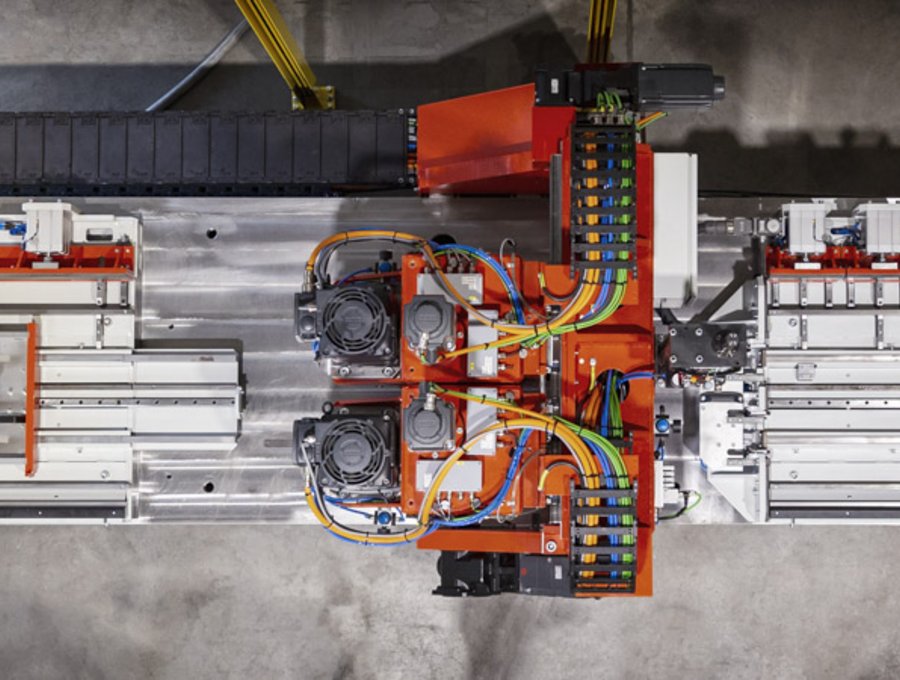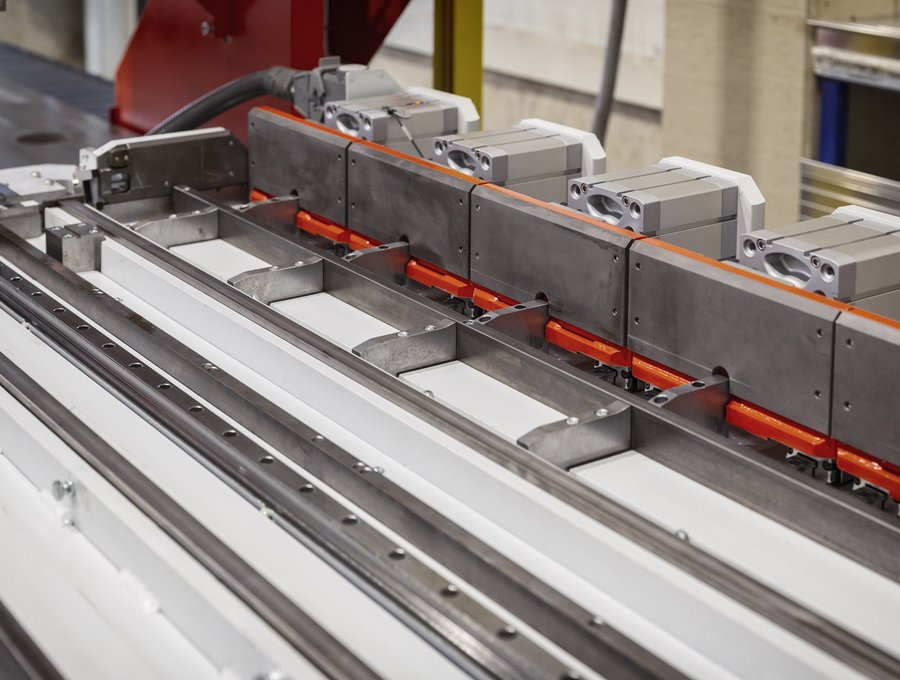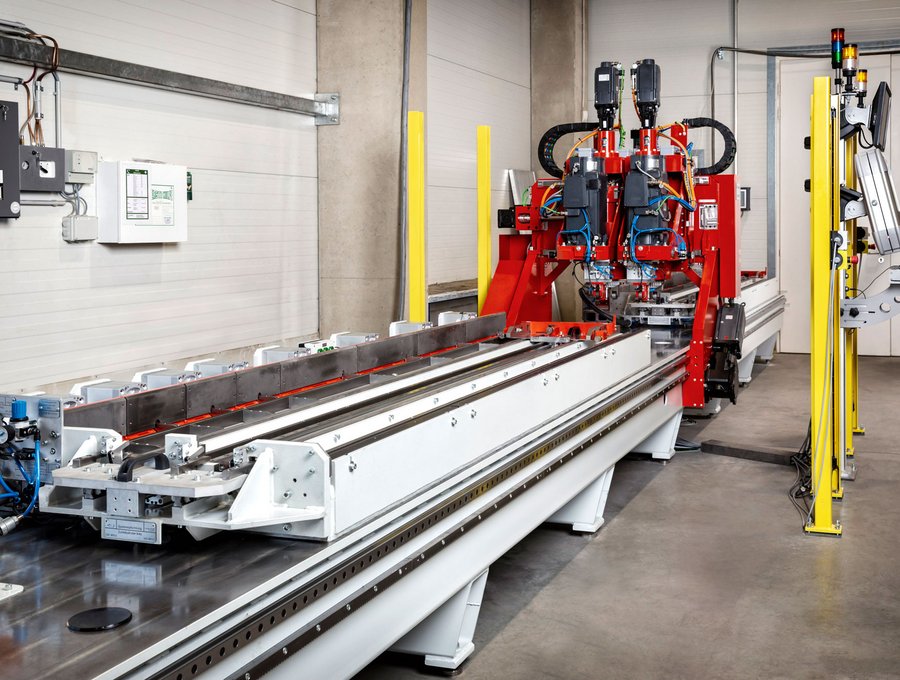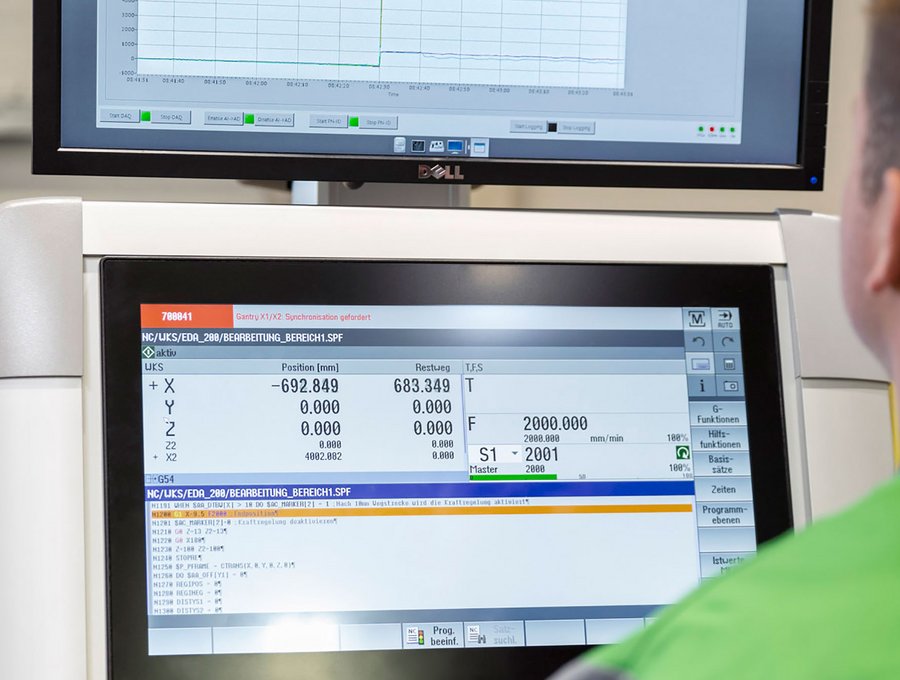 LINE COMPONENTS:
Machine base with X-axis for two workstations (alternating processing)
Gantry design calculated by FEM
Clamping systems
Two FSW heads
Pressure rollers for holding and smoothing the workpiece
Code stamping station applies product ID
Safety equipment
Process monitoring by HAGE FSW WeldCheck
The FSW processing centre has two workstations which the machine works on alternately. The individual sections are loaded into the semiautomatic clamping system by hand. They are then welded together by FSW with two welding heads, with an automatic joint detection function. A roller moving along the joints ahead of the welding head presses the workpieces down and another roller follows the welding head and flattens the surface of the metal. Both rollers are controlled via integrated pressure sensors.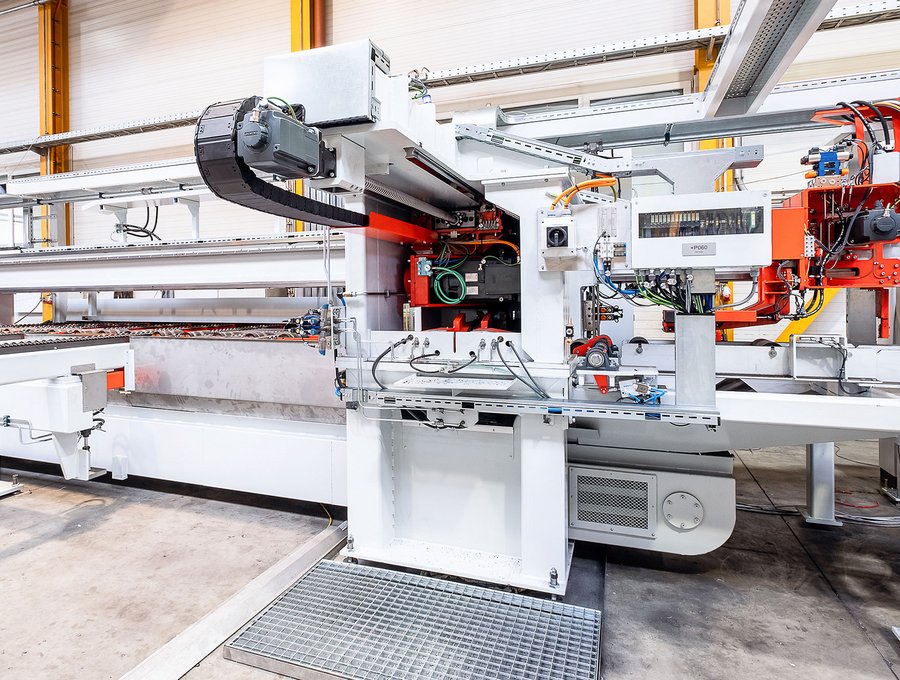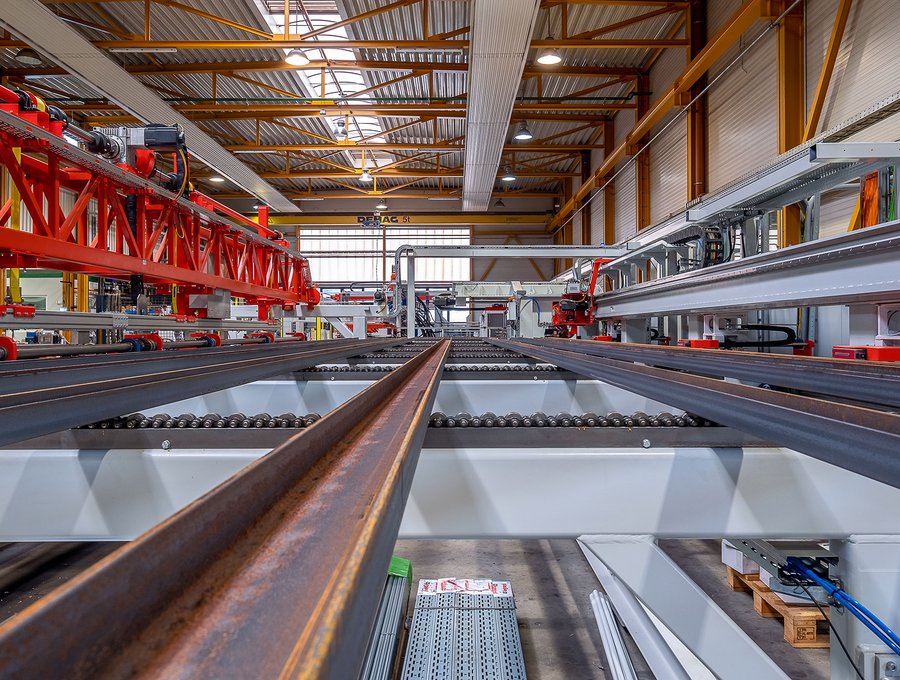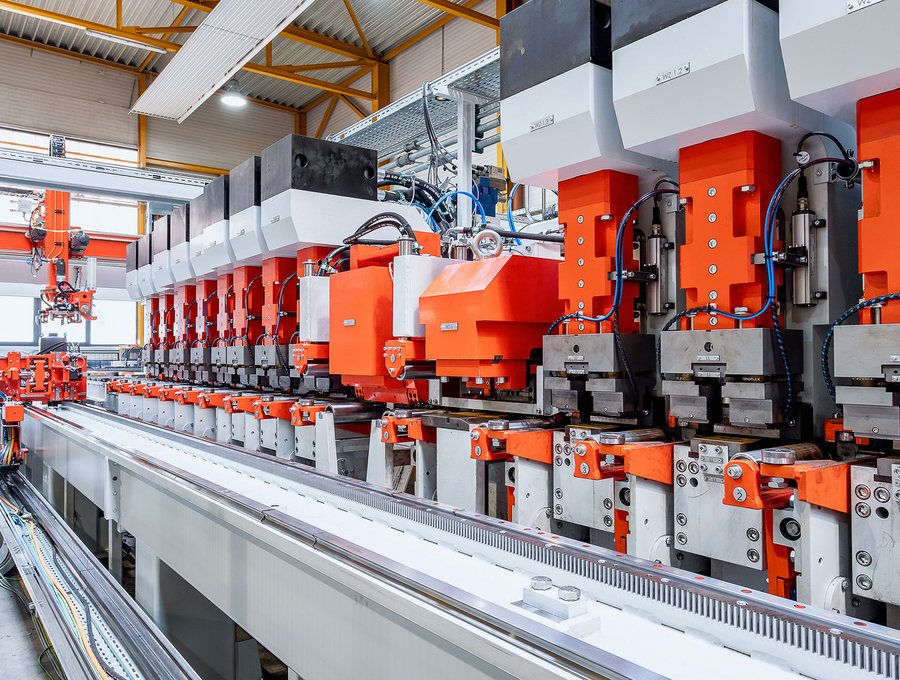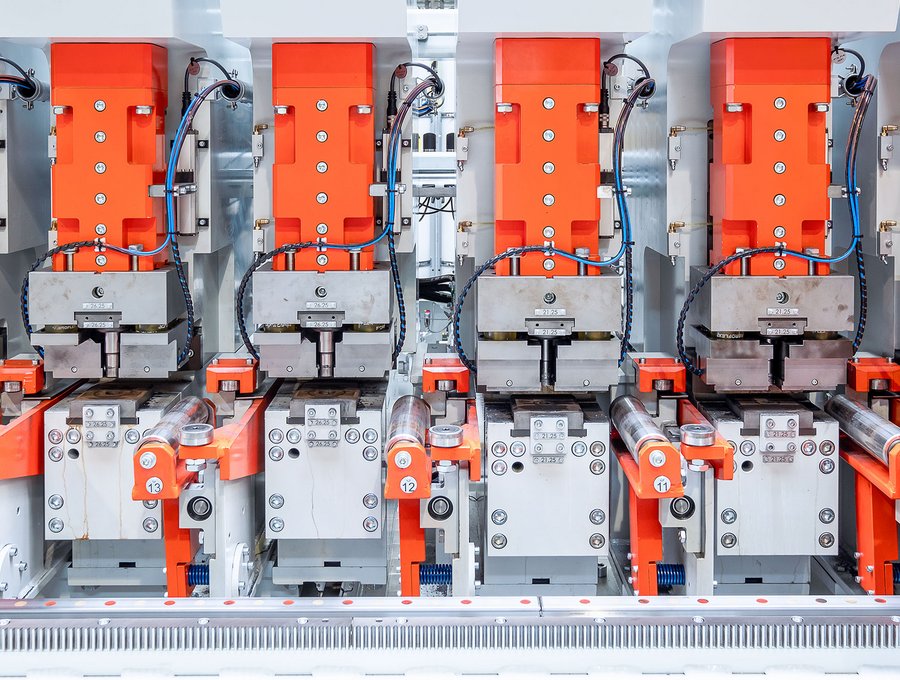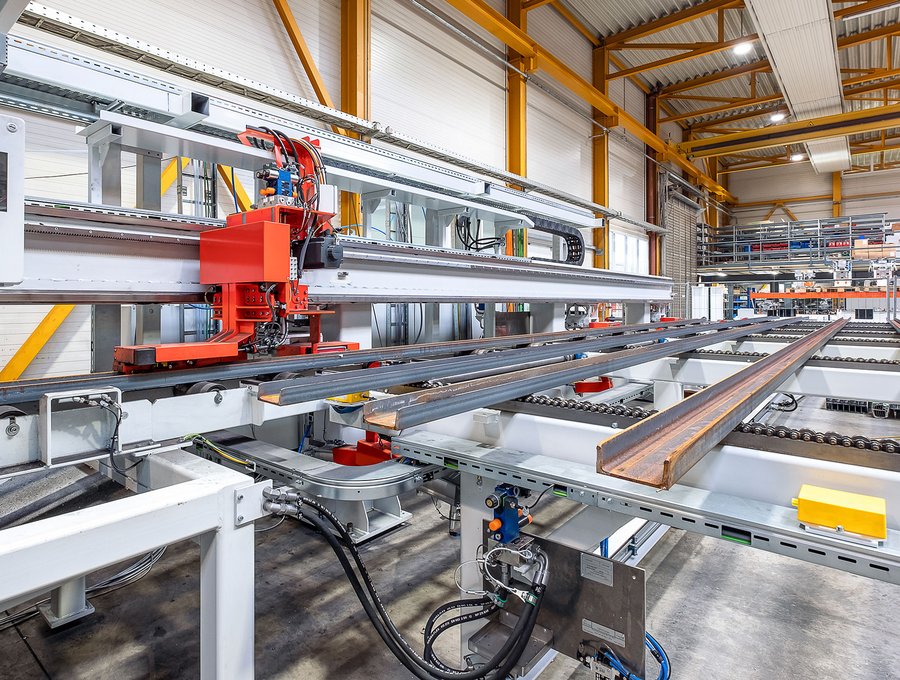 punching line for
steel u-bars
Steel U-bar sections up to 12 m long are loaded into the feed line, automatically unstacked, if necessary turned over and then cut to lengths of 720–6,000 mm.
In subsequent steps the parts are measured, punched, and following a Q check, transferred in pairs to defined buffer conveyors, which bring them to the welding station.
These steel U-bars are used as frames for girder wall formwork and a variety of special applications.
LINE COMPONENTS:
Feed conveyor with automatic manipulator to destack the parts
Buffer conveyor with part turner
Feed roller conveyor
NC cutting station with 2 NC transport grippers
Conveyor for waste from cutting & punching
Disposal of waste lengths of material
Parts handling/conveyor system to the punching station
2 NC feed grippers with length measurement
Punching station with 14 NC punching units
180° part turner
3 buffer conveyors
Safety equipment
Oil mist extraction system
Steel door frame
production line
The HAGE Cut punching line produces steel door frames in a cycle time of 60 seconds, in series or as batch size 1.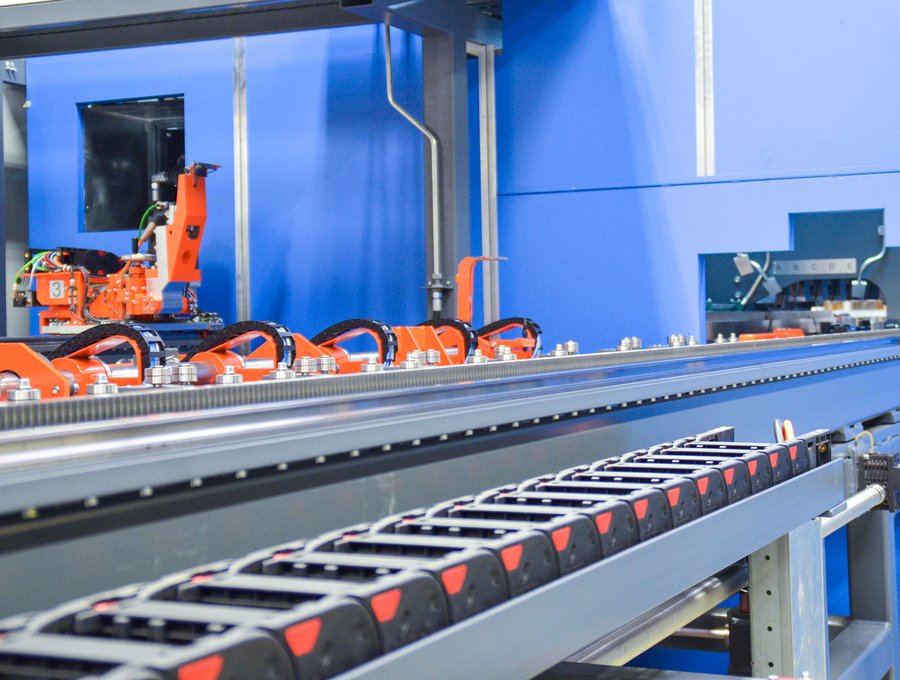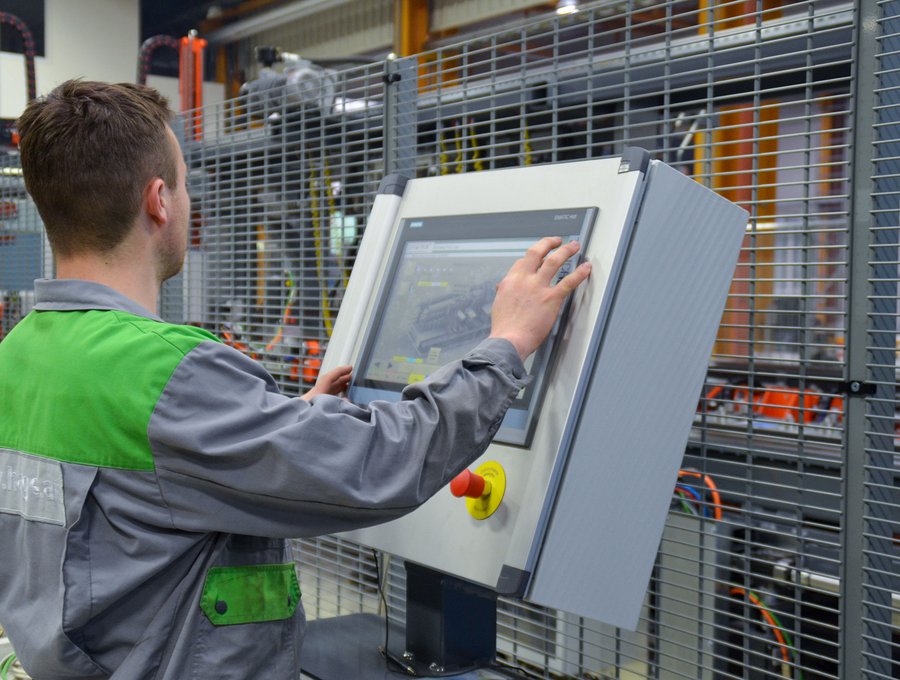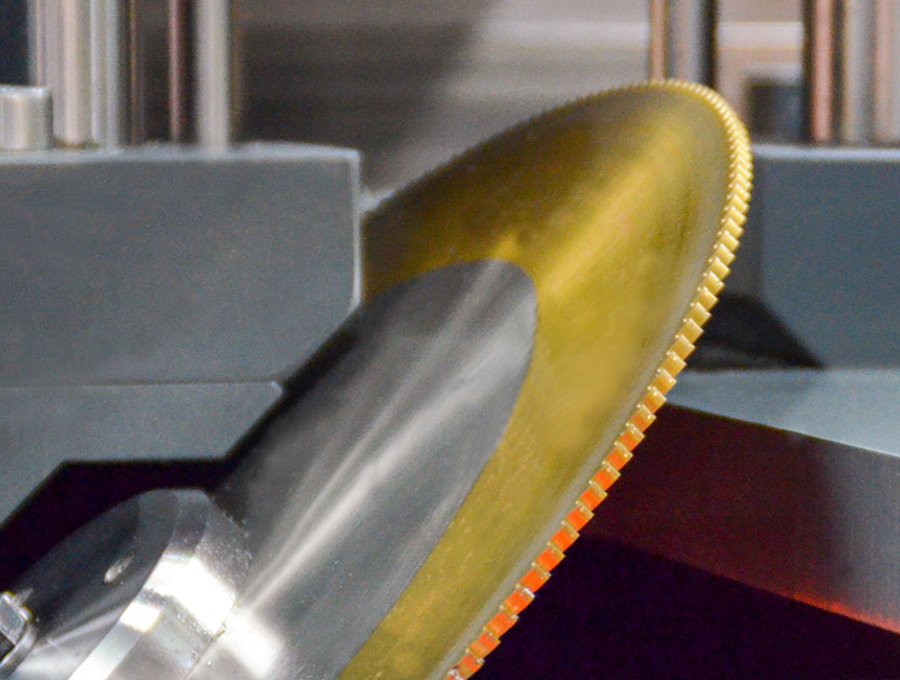 LINE COMPONENTS:
Automatic loading from profiling line
2 NC feed grippers
Double mitre saw, blade angle adjustable through 45°
NC adjustable clamping system at the saws
180° turner for discharge
Eight tool units
Automatic deburring station with NC adjustment
Buffer for finished pieces
Waste disposal system
Safety equipment
The HAGE Cut punching line produces steel door frames in a cycle time of 60 seconds, in series or as batch size 1. The frames are cut, punched and deburred fully automatically. Transport through the line is also automatic.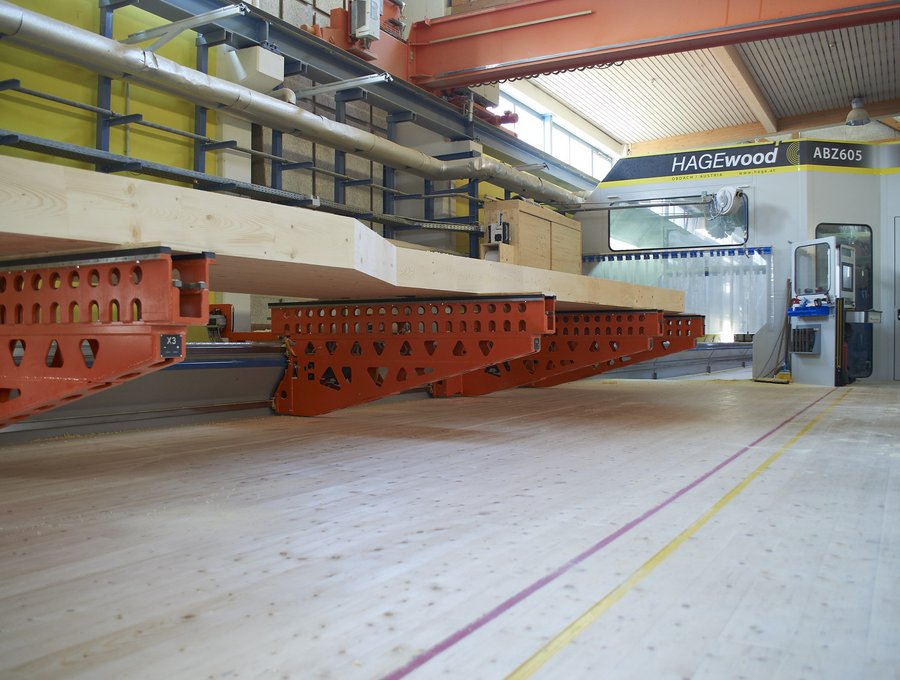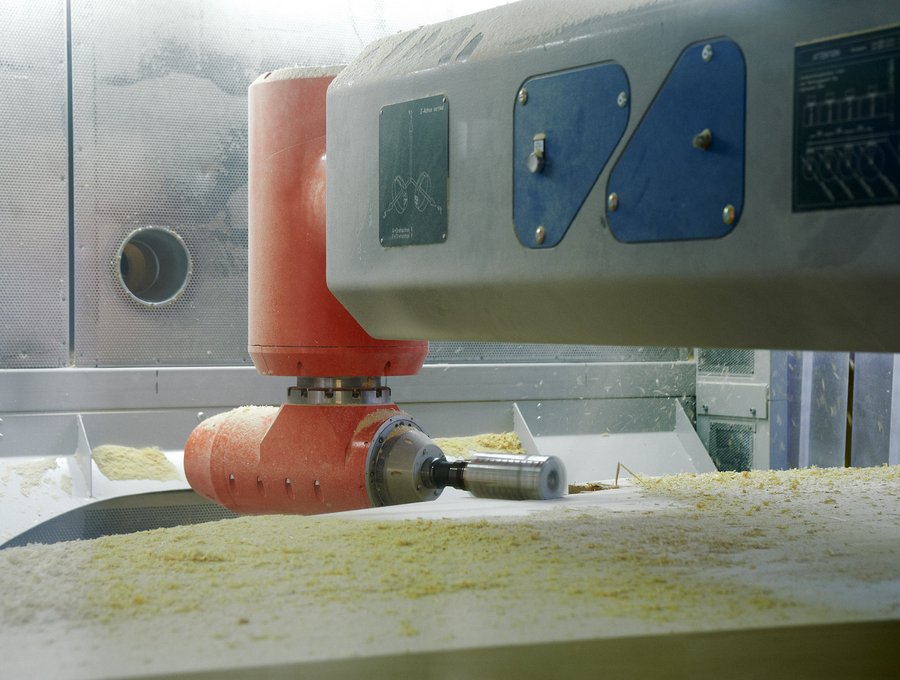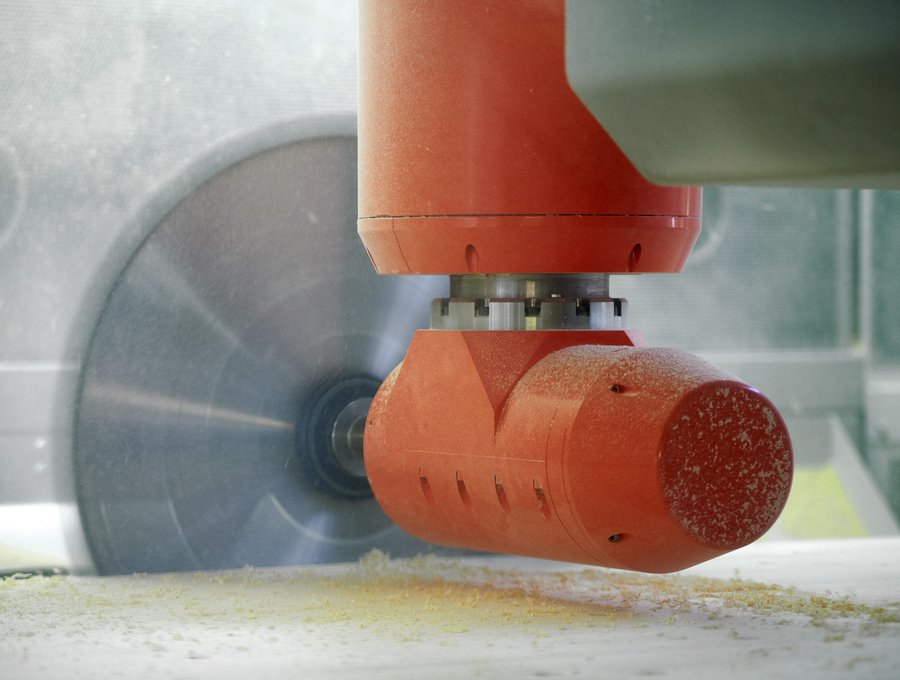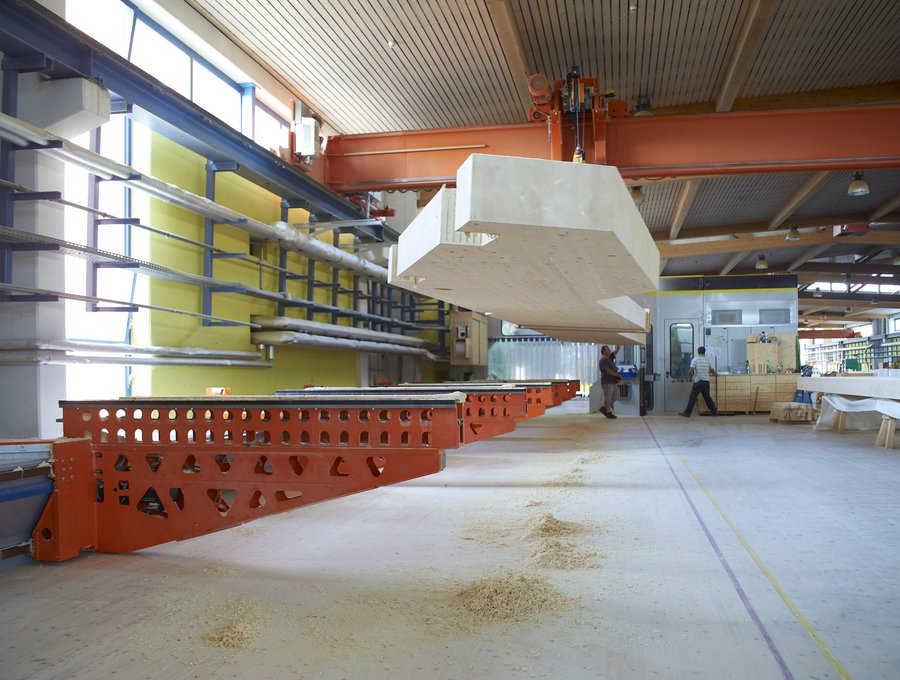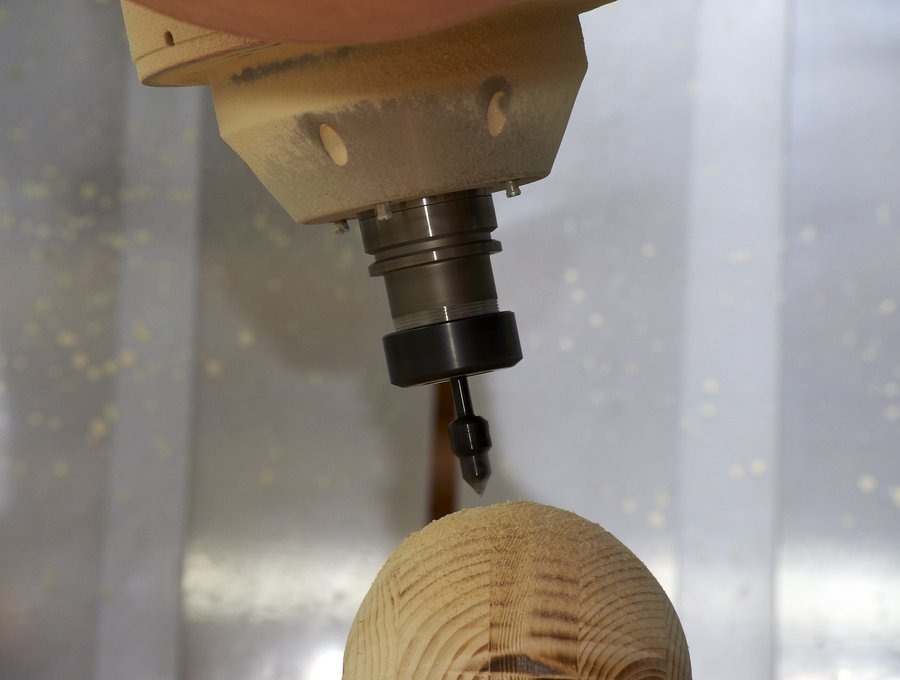 Automatic CNC timber
processing centre
The precise, 5-axis CNC timber processing centre cuts and shapes natural and laminated wooden parts and beams of up to 20 m in length.
It provides 6-sided processing without using angle heads, without unclamping and reclamping the workpiece – and without reducing power delivered by the spindle.
The laminated timber parts clamped on the workpiece carriage are presented to the column-type router to a precision of one-tenth of a millimetre. A two-axis routing head is carried on a Y-beam projecting from the machine stand. There is a fully automatic tool changer for 24 tools. The machine operator works from a soundproof cabin with full-length windows that give an unhindered view of the process.
TECHNICAL DATA:
Working envelope
Length: approx. 20,000 mm
Width: approx. 1,600 mm
Height: approx. 700 mm
Range of travel
Length (X) of workpiece carriage: approx 40,000 mm
Width (Y): approx 2,800 mm
Height (Z): approx. 1,800 mm
6-sided processing without angle heads, 5-axis transformation (interpolating axes)
HSK 63 A spindle with 18,000 rpm speed, 30 kW power
Access to the spindle from all sides
State-of-the-art CNC control
Standard tool changer with 20 positions, special tool changer with 4 positions
Workpiece weight max. 9 t using 6 workpiece carriages